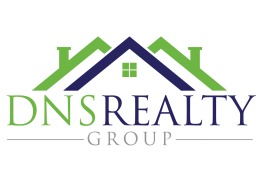 DNS Realty Group
Premier Boutique Real Estate Brokerage
Residential | Commercial
ST. MARY'S COUNTY MARYLAND
Welcome to St. Mary's! This Chesapeake Bay destination is brimming with history, outdoor fun and vibrant culture. Just a short drive from Washington, D.C., discover Maryland's best kept secret.

Cradled by the Potomac and Patuxent Rivers and the Chesapeake Bay, St. Mary's is a peninsula with a 500-mile shoreline to explore. Here, you'll find five water-based state parks, numerous water trails, abundant opportunities to fish, camp and hike — and of course, fabulous seafood to savor.
This fertile location destined the area for an eventful history. This is Maryland's birthplace. The story of Maryland's early beginnings unfolds at the area's colonial sites while its maritime heritage comes to life at its four lighthouses and its waterside communities. The rural landscape holds its own pleasures of afternoon drives, scenic cycling, and farm and winery rambles.
St. Mary's County is home to an Amish community in the Mechanicsville area in the northern part of the county that consists of 8 church districts and about 1,000 people. The Amish in St. Mary's County maintain dairy and produce farms along with small Amish businesses.
St. Mary's College of Maryland is in St. Mary's City, Maryland, and has been ranked "6th in the nation" under the category " Public Liberal Arts Colleges" by the U.S. News and World Report 2014 University and College Rankings report.
Fun Fact: Grammy Award-winning singer and songwriter Mary Chapin Carpenter wrote a song about St. Mary's County, called "Down in Mary's Land", in 1989. She is known for having great affection for St. Mary's County.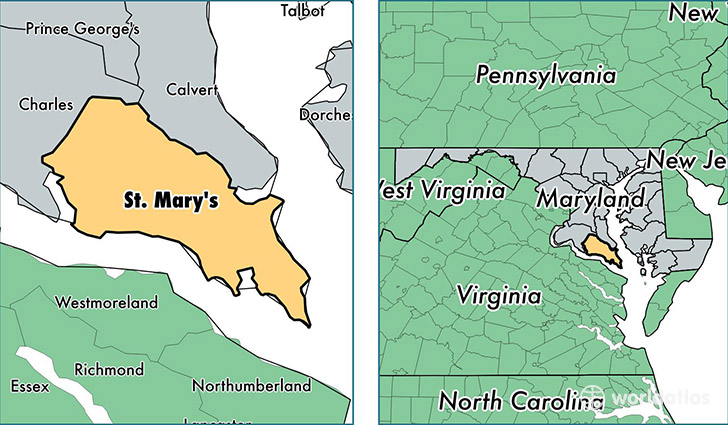 ---
St. Mary's County has lots of great places to eat - from seafood dives to sidewalk cafes to white table cloth establishments. Local hang-outs are authentically local and our waterfront eateries offer some amazing views!
The town's feel is relaxed and friendly and that's what you'll find when you stop in to dine. From Indian and Thai to pizza and wings, you'll find it here.
---
DELIGHT
What's there to do in St. Mary's County? Plenty! If you're into history, outdoor recreation, or love being on the water, St. Mary's County has got you covered. With some of the finest colonial sites in the nation, plus War of 1812 and Civil War sites, and a rich maritime history illuminated by the four lighthouses.
Featuring over 500 miles of shoreline on the Potomac and Patuxent Rivers, and Chesapeake Bay, plus countless other rivers, streams, tidal marshes, and inlets, St. Mary's County is a water wonderland.
But that's not all. Family fun in St. Mary's in plentiful! Whether the kids are into skate parks and BMX biking or simply swimming, movies and bowling, St. Mary's County has it!
---
DIGS

From rural and seaside locations, to the hi-tech communities near the Patuxent River Naval Air Station, to the small-town feel of Historic Leonardtown, St. Mary's truly has it all. If you decide to "become a local", you'll be joining the youngest and fastest-growing workforce in the State of Maryland. With the highest percentage of hi-tech employment in the region and the 3rd highest median household income growth rate in the state, we offer lots of opportunities for work and for play.

Waterfront, rural, apartment, new and modern subdivisions - St. Mary's County offers a plethera of housing choices!
---
DISTRICT
The settlement of Lord Baltimore's Maryland began with the arrival of passengers from England at St. Clement's Island in the Potomac River in what is now southwestern St. Mary's County on March 25, 1634 (the anniversary of this landing being annually celebrated as Maryland Day). The passengers arrived in two vessels, the Ark and the Dove, which had set sail from the Isle of Wight on November 22, 1633.
Due to the small size of the Island, and its lack of resources, the intention was never to make a permanent settlement there. Instead it was used as a base for the settlers while scouting for a more suitable site. This was how a bluff overlooking the nearby St. Marys River was chosen for numerous reasons, and became the site of the first permanent settlement. It would soon be named "St. Marys City".
Today Historic St. Mary's City is a major attraction in Maryland with four museums, a reconstructed colonial village and the reconstructed Maryland Dove settlers ship. It is also now one of the top archeological research sites in North America.
Local cities include:
Mechanicsville
Saint Marys City
California
Golden Beach
Leonardtown
Lexington Park
Charlotte Hall

---
To learn more about how we can help your housing search – please call DNS Realty Group today at (855) 286-0310. DNS Realty Group
MD Broker License Number: 603140
VA Firm License Number: 0226-024372
Maryland Office Address: 3261 Old Washington Road Suite 2020, Waldorf, MD 20602
Virginia Office Address: 5680 King Centre Drive, Suite 600, Alexandria, VA 22315